Discover more from Marilyn Dishes Newsletter
My newsletter will be about my blog, marilyndishes.com. the food that I cook ( mistakes included) the food I eat & a bit about me!
We were traveling last week
Thank you for finding my newsletter & reading it!
I was not in the kitchen last week/ We went to visit our kids & grandkids then flew to Miami for a wedding on the weekend. We had a great time & wish the new couple a happy life together.
Our flight were good but we used AirMiles for some of the flights so we had a long layover both ways in NYC. I love NYC & wish we could have left the airport to spend some time in the city but sadly we couldn't.
We had time to eat at the airports during our layover. At JFK airport on our way to Miami I had Shake Shack.. I only had the fries & they were so delicious. Murray found some fresh sushi so he was HAPPY! Lots of places to sit so we could eat away from the crowds. At the LaGuardia airport on our way home, we did not have a great food experience. Looking up where to eat in Terminal C I decided to have a burger from Essex Burger. The place was so busy so I thought it would be great! I took my burger & fries to go so Murray could find what he wanted. He decided on a Kosher Turkey sandwich & was going to share my fries. Well, my burger was awful! The patties were small & did not fit the bun. Burnt & dry. One little sad slice of tomato & the core part of a head of lettuce!!! I did not eat that burger though I did eat the fries. They were edible but not as good a Shake Shack! I took that awful burger back to show them, not to get a credit, but I thought they should know how it was. They did offer to make it again but we had to get to the plane so they let me take some snacks & water up to the price of the burger. That was good customer service. Murray's sandwich was not any better & it was very expensive. Dry but he did eat it. There were very few places to sit except at the gates so we sat at Bubbys restaurant & ordered coffee & a piece of Banoffee pie which was delish! I did not take a picture but I should have. I think I will try to make one of those pies sometime!
When we were in Miami, well actually we stayed in Coral Gables we didn't have to get too much food on our own since there were many wedding events!
We ate at Motek on the the Miracle Mile. We went there once & had to go back! Here are some pics of what we ate there. These pics are from our Saturday night dinner.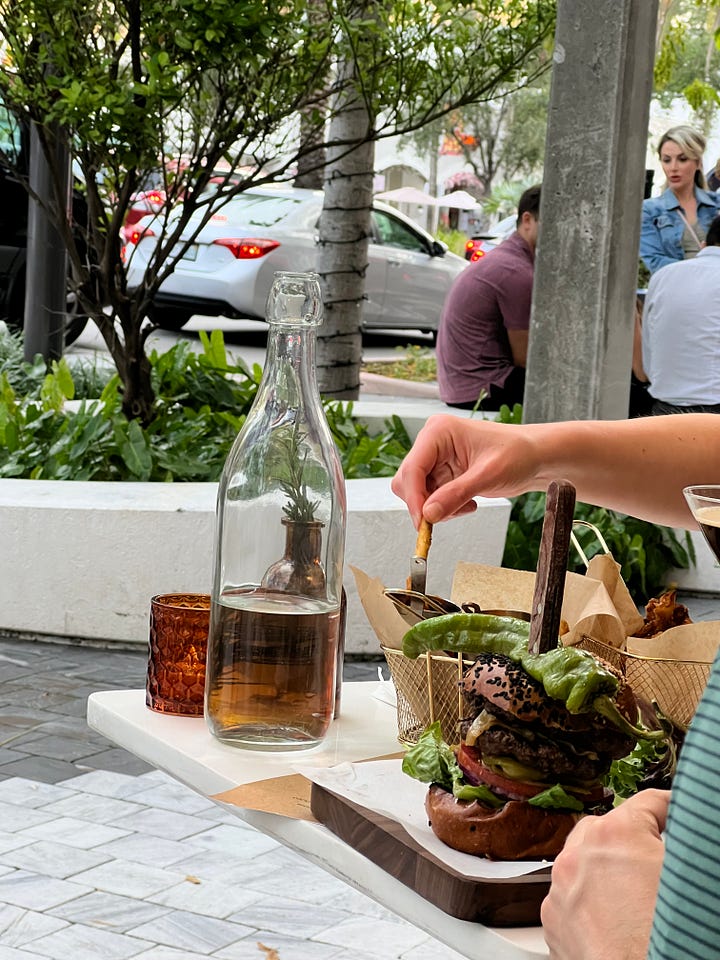 Top left is a burger at the next table! Our food are the other 3 pics. Top right is the Crispy Cauliflower with a spicy harissa honey drizzle. Bottom left is the Arayes Burger which is a Kufta in pita & the fries were crispy & great. Bottom right is the most delicious dessert! Black sesame ice cream, topped with shredded halva which got crispy from the ice cream, chopped pecans & Silan (date syrup) drizzle. Soooo Good
For Mother's Day we went to Zak the Baker. Food was excellent, Here is a picture of the Chocolate Bupka which is one of the best I have ever had. Tender & not too sweet.
That's all from out trip! I did post a few recipes that I had posted previously on the blog.
On The Blog
A Pavlova is an impressive yet easy dessert that is loved by many!! Always a hit when I make it.
Rowena's Pineapple Dessert is an old recipe that is still as delicious as when it was popular years ago! I named this dessert for the friend of mine who gave me the recipe
I could not only post dessert so… here is a delicious dip. Greek Salad Dip. A recipe I found written by myself on a piece of paper so I do not know where the original recipe came from. I did update the original a bit.